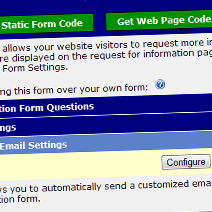 Website tools
Make event administation even easier and smoother with our fanstic website tools.
We provide you with a wide range of tools which you can place on your website, giving your customers a more interactive feel. With more and more people booking services online, you need to ensure you have the advantage over your competitors! Our tools will help you gain that advantage!
All tools come with easy to use options and we even provide you with the code you need to put the tool onto your website. It couldn't be easier or quicker getting started!
The great thing is all the website tools will pass any data collected straight into your DJ Event Planner account, meaning you will never have to double type a client's event details again!
Our simple to use styling tools allow you to customize your website tools to match your website. With the option to link to your logo, a background image and pick custom colors, you'll be able to seamlessly integrate our website tools into your website.

The live preview system allows you check your styling before saving too, so you can be sure that your choices are correct!

The client portal, our flagship website tool, comes packed with features which you can manage from within the administration area. We provide you with a lots of options to customize your portal to your requirements, along with a selection of preset templates to use.

If you're an advanced user, you can customize your client portal even further by linking to your own stylesheet giving you complete control of the look and feel!

You can find out more information about the client portal here

Let your clients see if you are available for their chosen date, quickly and easily! The Date Availability Checker tool allows you to put either a basic form or graphical interactive calendar onto your site; your customers can then select the date they wish to book you and check your availability.

If you are available, you might want to present a form so they can request a quote right there and then. Or if you are not available, you might want to refer them to someone you work with? Thats no problem! You can set up what happens when they select a date, giving you total control!

Save your self time and money by getting your Requests for information sent straight to your DJ Event Planner inbox with our Information Request form. You decide what questions you want to ask, and we provide the code to put straight on to your dj website. Then when a client inquires about you, the information is sent straight to your online planning system.

No more entering the details manually; no more double typing the data! One click to add the event details, and your admin work is reduced massively!

Want to provider your clients with a quick electronic way to contact you? Simply use our Contact Form website tool to get your emails sent straight to your DJ Event Planner inbox!

With customizable questions, we'll provide you with the code to put on your website. All emails sent from the form are then put into your DJEP inbox; no more searching mutliple email management programs as everything is in one place!

Sometimes your customers want a quick quote! DJ Event Planners website tools can help you provide that information almost instantly. Our quote generation tool allows your customers to fill in some basic details and get an estimate of how much their event entertainment will cost them.

The tool forwards this information to your DJEP inbox allowing you to add the event details to the system; you can then contact the customer directly or store the information in your account.

Your potential clients may want to browse your music database before requesting a quote, so putting this tool on your website may be a no-brainer!

Allow your potential clients to browse through your music database, searching by Artist, Song Title, Genre and more. We even provide you with 3 prebuilt (regularly updated) databases which you can use instantly; alternatively, for the more advanced users you can upload your own database.

Reduce the waiting time in receiving payments with our payment gateway tools. By allowing your customers to pay instantly online, you can ensure you secure the booking faster than ever before.

The PayPal system is our standard gateway; however, more advanced users can use their own payment gateway links, if they wish.

We also provide a premium feature to assign any PayPal payments made to the event/client details, so you can see who's paid what and keep track of your finances with ease!

One of our most popular features is the Guest Request system. The Guest Request System can help increase traffic to your website, increase awareness of your business, and most importantly increase your potential client base!

You can set up a secure area where your clients' guests can come along and put in a request BEFORE the event. This allows you to see what sort of music this event might prefer, allows you to personalize your set before the event, and also gets potential customers talking about you!

| | |
| --- | --- |
| If you do public performances, you may want to share a list of your events on your website. Our Event Calendar tool allows you to copy some simple code into your website, and it will automatically display all your events instantly! No code refreshing when you add a new event; the tool updates automatically. | |

It's nice to know when you've done well; it's also nice to know what you could improve upon. The Evaluation Form website tool allows you to find this information out.

With customizable questions, you can provide your clients with a form asking whatever you want! When they submit the form, it's sent to your DJEP inbox and can also be used to generate reports.

If you wish to display your evaluation form results on your website, use our automatically updated Evaulation Results website tool. Each time a form is submitted, and you have this tool on your website, your potential clients can read what other clients felt about your service.

Increase your reputation by allowing your potential clients to view past event evaluations; show where you have grown, and more importantly, show how great you are!

Social media has taken over, if your business is not on Facebook then it seems you're being left behind! This premium add-on (one off fee) allows you to integrate your client portal and/or request information form into your Facebook page.

Allowing your clients to connect with you via Facebook, gives you an advantage over your competitor. You also give your clients more ways to connect with you and to use your services. It shows you're thinking about your clients and guests.

Get one step ahead of the game and get social!

Tracking and analytical information is vital in today's web world. To provide a better service, it's great to know how your clients found you and what they've used on your site. You can use this data in your marketing and customer service strategies, helping you increase business and make more money!

This tool couldn't be easier to use; simply enter your Google anaytics ID in the administration area of DJEP, and we do the rest! All the information is then sent to your Google Analytics account!
​
Get Started...
Start your free trial today and revolutionize the way you work